Tibetan Skull
Start of a full Japanese sleeve and coverup, my client had a bunch of existing flame lifework going up and down his arm. Japanese work is one of my favorite styles to do and also makes for great coverup work. This piece is on the bottom/back of the forearm.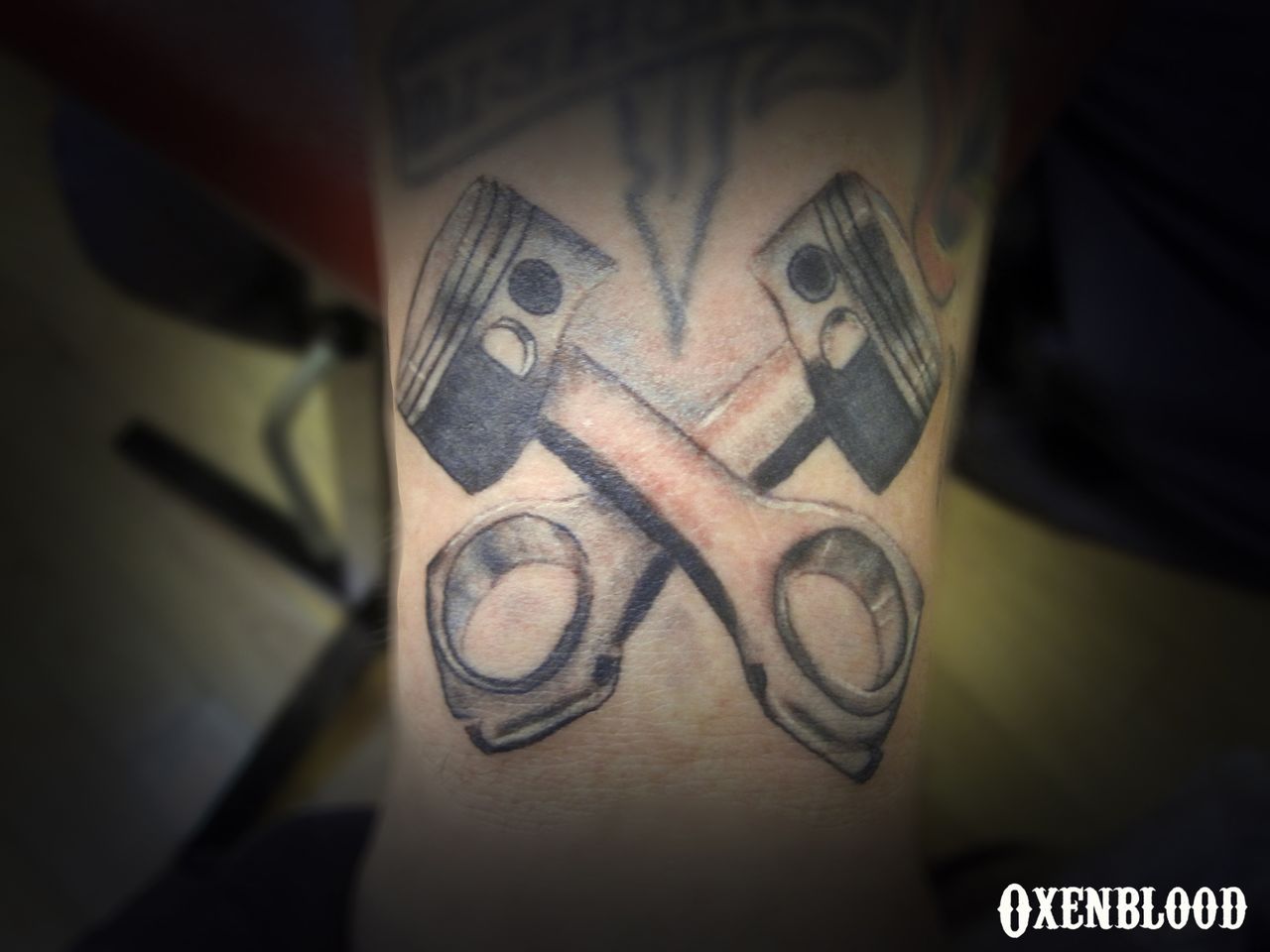 Engine Pistons on wrist
One of my first realistic style tattoos, I did this when working with Sarah at my first guest spot back in 2011.
Edgar Allen Poe Raven
Although this was a flash image, it's still one of my favorite pieces. I rarely do flash, but the design was flawless. I made a few tweaks to the raven, background, and lettering.
"Lady Killer"
Virgin Mary
One of my first "portrait"-style designs, my client gave me a general idea and let me go to down on this design.
Steampunk Kitty
Fun little piece done at the Spooky Empire convention in Florida.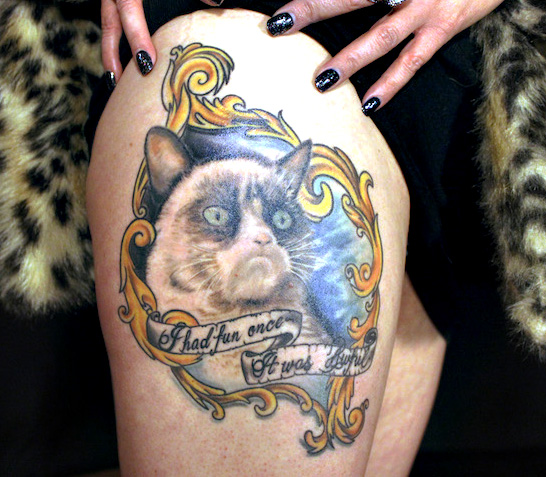 "I had fun once, and it was awful"
Healed shot of Grumpy Cat on thigh, done at Wyld Chyld in 2013
"Pretty"
Mockingbird and tree
Realistic Autopsy Technician tool
Vampire pinup/rework
Lady Death Pinup on thigh
Healed shot of one of my favorite Comic book characters! Done in 2013 at Wyld Chyld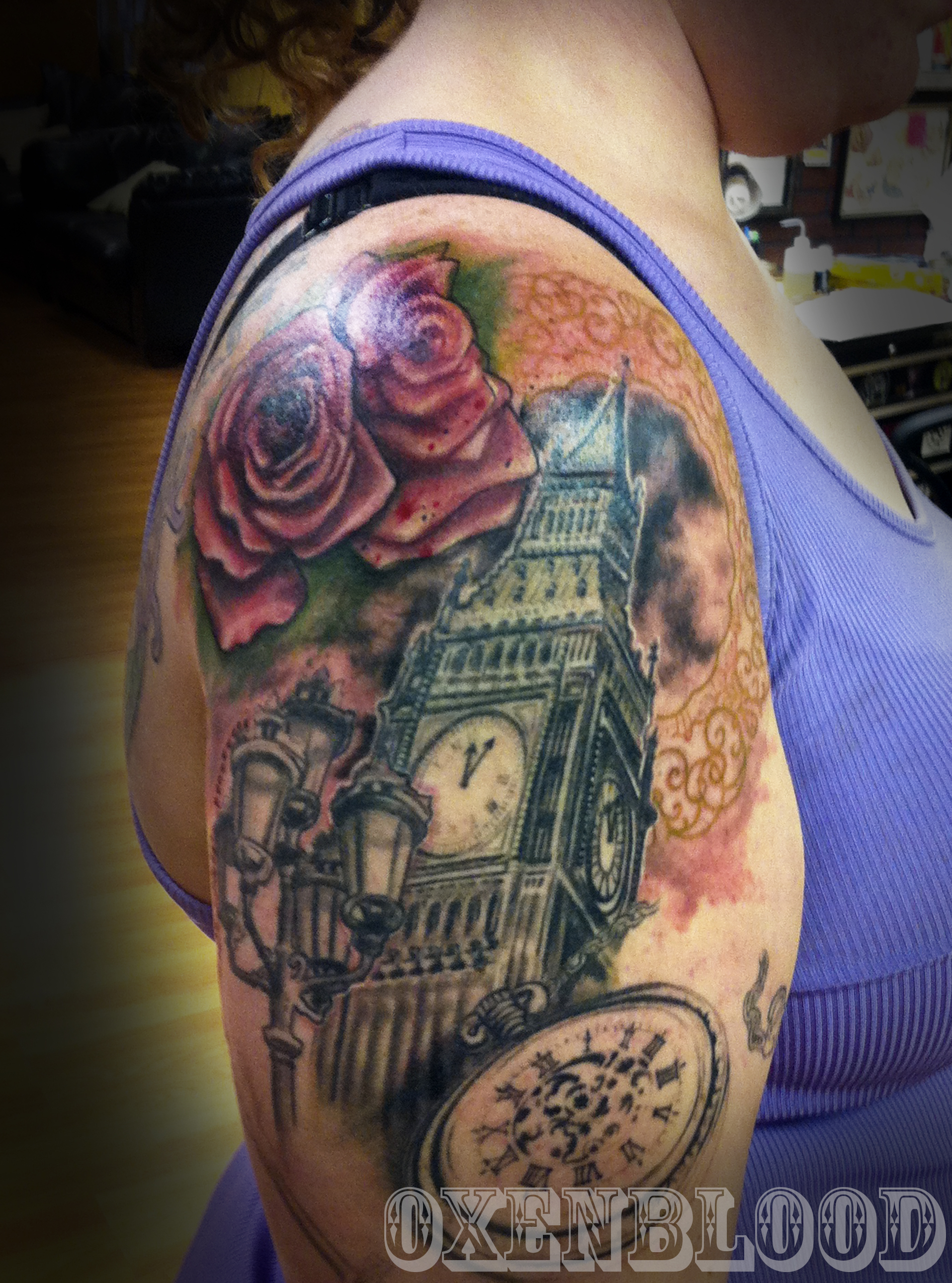 Steampunk/ Time-piece Sleeve
This is another in-prorgress shot of one of my favorite sleeves I have the privilege of working on. When everything is finished we will have 3 different time-pieces throughout the sleeve, each representing important dates in my client's lifetime. Big Ben and the lamp-post are healed. Done at Wyld Chyld in 2014.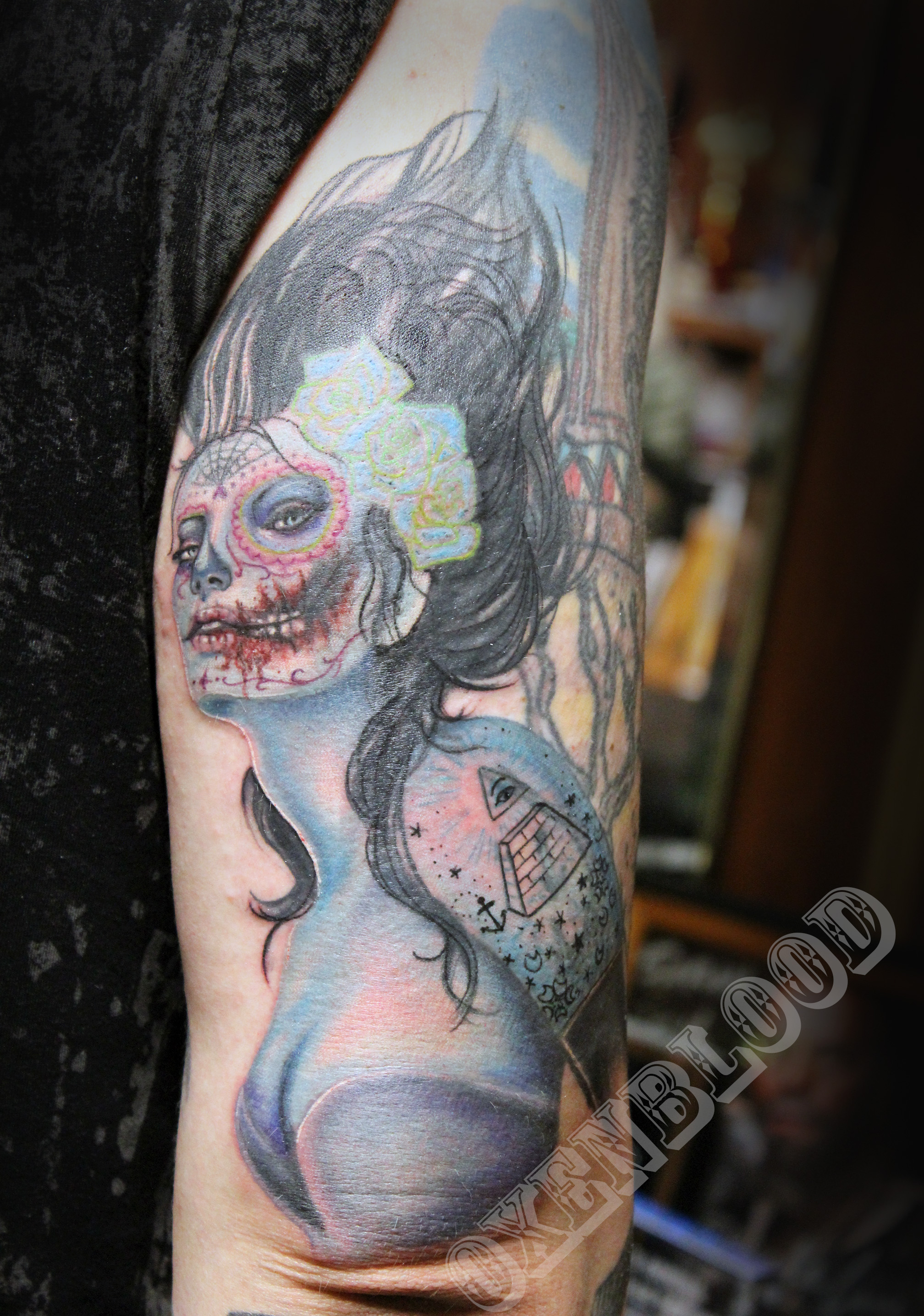 Dia de Los Muertos (Sylvia Ji rendition)
We gore'd up a Sylvia Ji painting and added a few tattoos to make it fit my client's style a bit more. Lot's of fun with this piece! 2014 at Wyld Chyld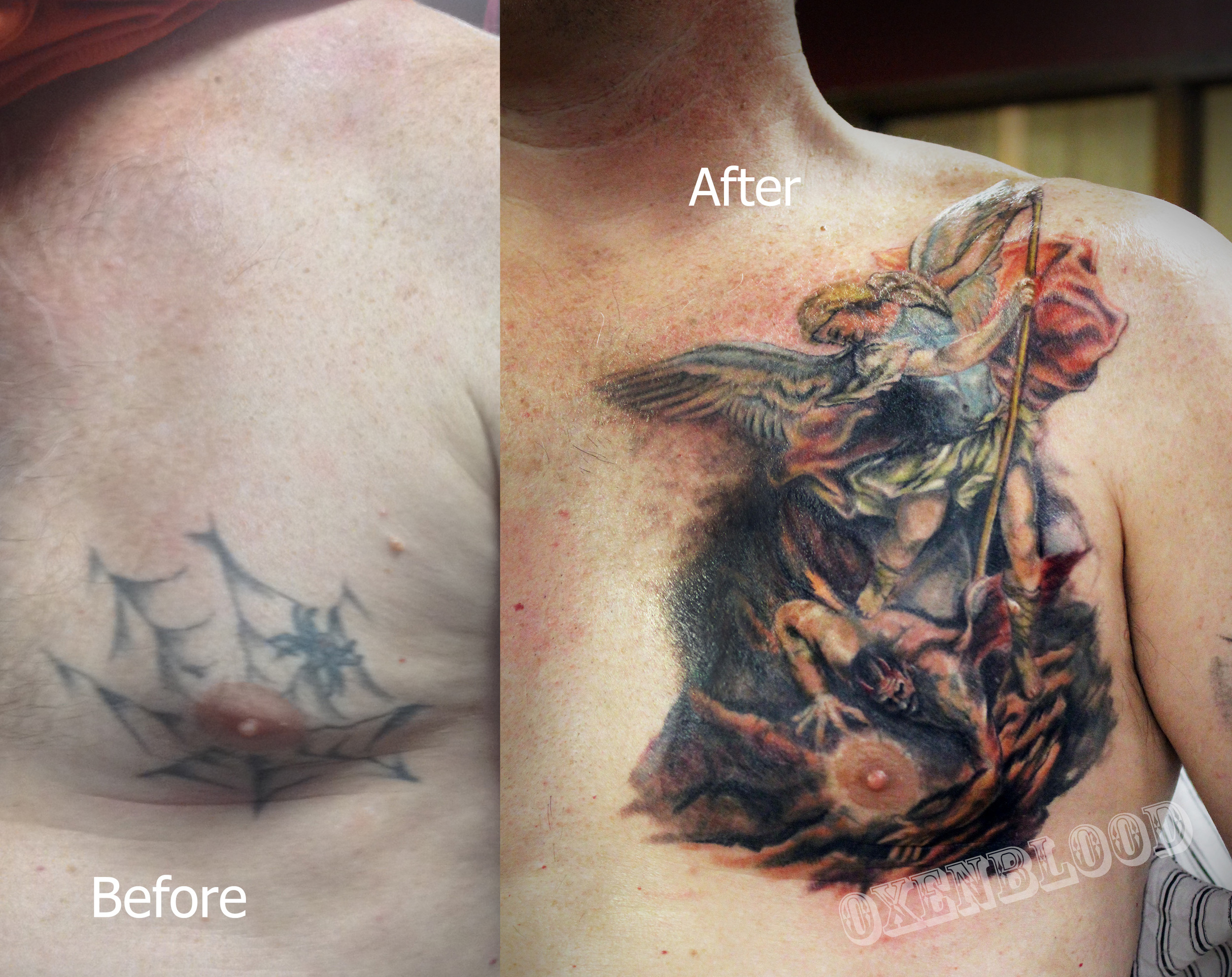 St. Michael cover-up
St.Michael on left chest panel, covering some old drunken fun
We fondly started referring to the area where Lucifer is being smiter as "nipple hell", for multiple reasons. : ) we wanted to give this tattoo the look and feel of the original oil painting.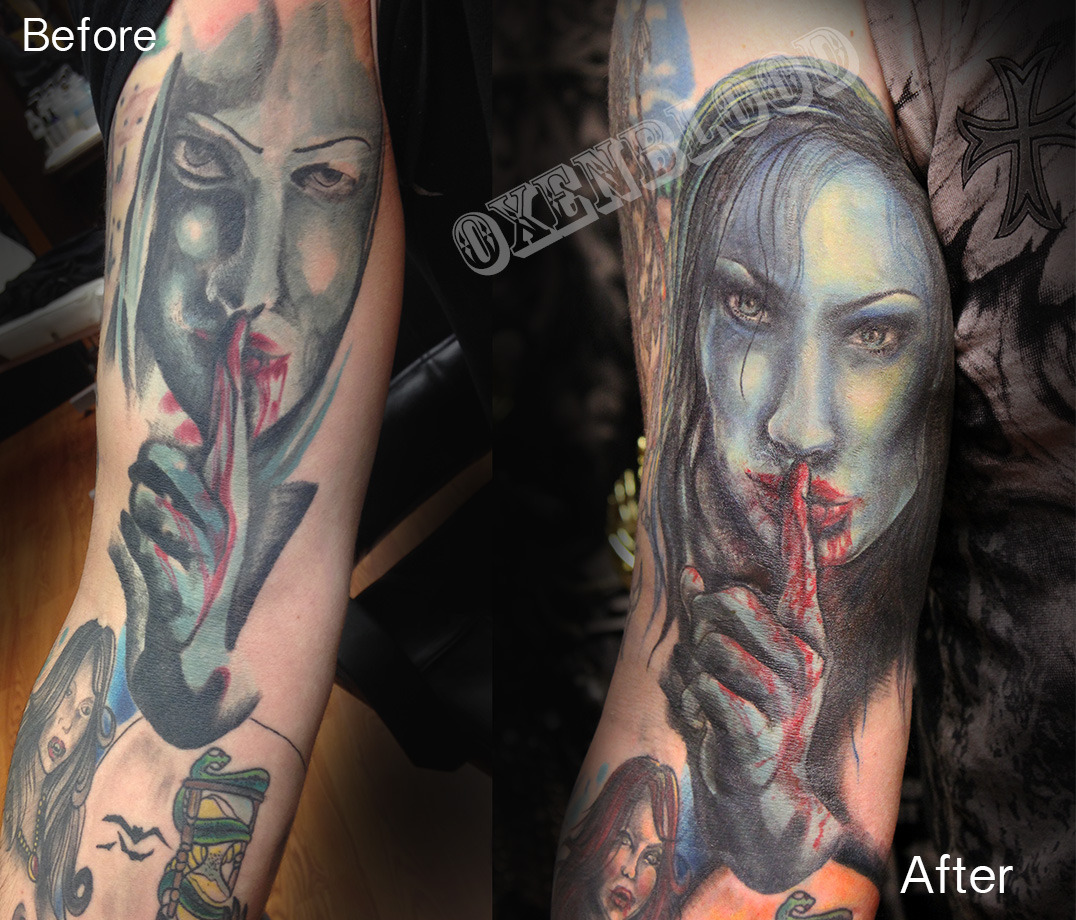 Vampire woman
This was a one of the first full-scale portrait style pieces that I attempted, and I had an absolute blast with it. The original piece was ripped off of a pretty well-known horror portrait tattoo, so I tried to change up the features of the face and make it as much our own as we could with that was already there. this is a healed shot. 2013 Wyld Chyld
Fantasy tree on side
My client originally wanted a tree on her side with the roots to mirror the trunk and branches. I wanted it to flow with the shape of her body, so she was gracious enough to let me make some adjustments by adding the water reflective look and modifying the shape of the tree to make it less symmetrical and match her anatomy better. Thankfully we were both really excited with the final effect!
Gardenia on wrist
Done at the Philadelphia tattoo convention in 2014, this woman came in wanting a piece to memorialize her mother, who loved gardenia flowers. We decided to add the deep green and blue background to accentuate the soft tones in the flower. This client got this for her 60th birthday, and I have to say she handled this tattoo like a champ!!
Anchor and filigree on forearm
I love tattooing intricate little designs, and filigree never gets old to me! I love the vintage look to this piece.e
Watercolor Hummingbird and Roses
This piece was a ton of fun to do; my client gave me a general idea and let me have a lot of creative freedom. The mother/daughter symbol in the center was done prior to my work by another artist. Done at Bodyworks tattoo 2014.
Healed Fudo Myoo full back
My client came to me with the idea of doing a tattoo after the legend of Fudo Myoo, a Buddhist diety who converts anger into salvation. He is said to represent the balance between anger and restraint, and is often seen holding a sword in one hand, and chains in the other. We decided to illustrate this balance instead by wrapping the sword in silk. to play up more interesting color combinations and have some fun translucent effects.
This piece took about 70 hours to complete and is fully healed.
Watercolor style rabbit on hip
Mucha influenced sleeve (in progress)
Done at Bodyworks Studio in Pittsburgh, spring 2015
Betty Magnolia Sleeve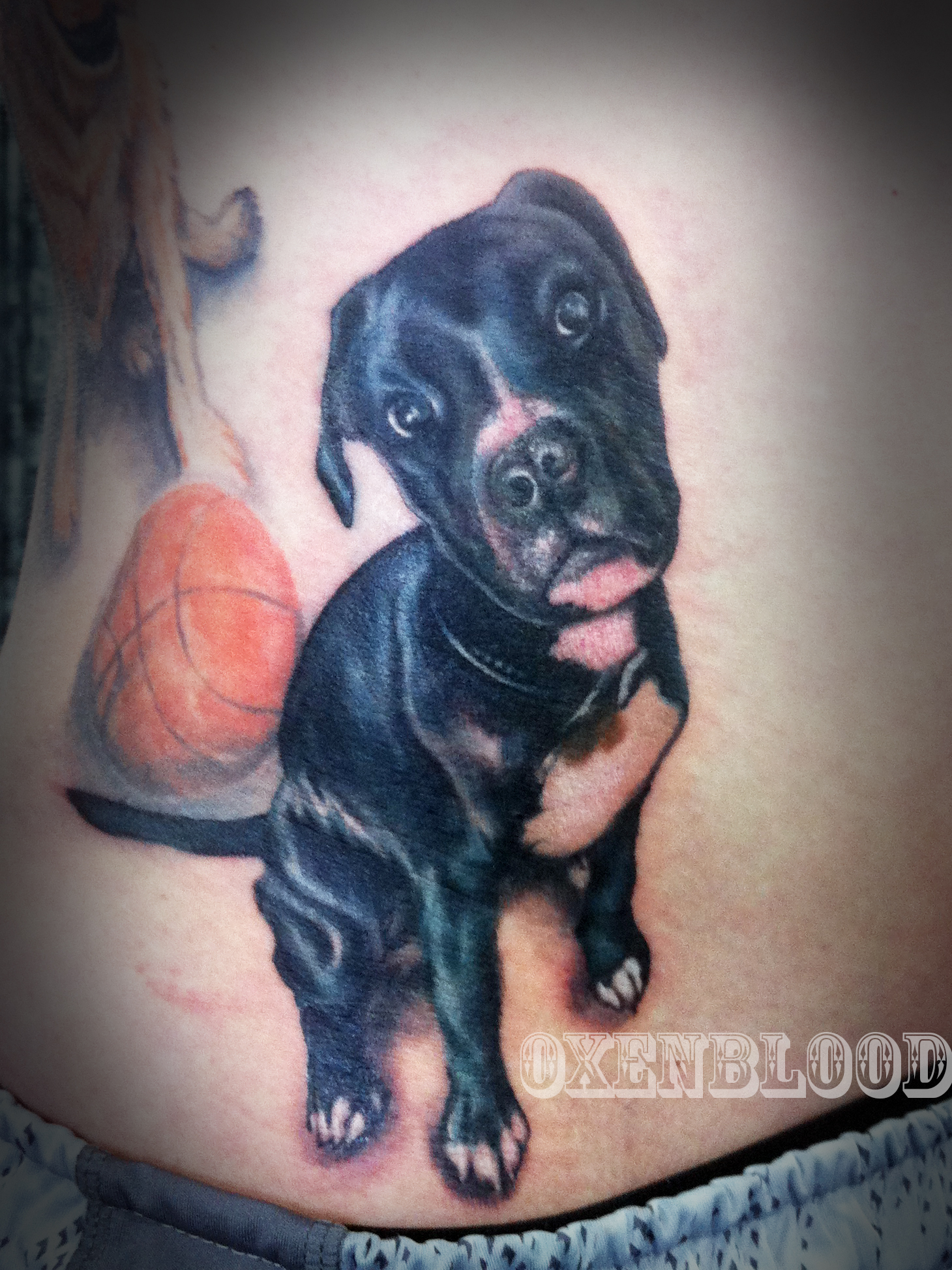 Puppy Portrait
Puppy on hip/ribs, Done at Bodyworks tattoo 2014
Legend of "Coyote"
One session, lower forearm. Done at the Asheville tattoo expo in March 2015.
Astro- frankenstrat
I had a blast designing this piece! Matt originally wanted a simple, clip-art style guitar on his side, but after discussing it, he was willing to let me create something much more trippy and fun! I love combining realism with fantasy, and merging into the realm of surreal. Thanks for looking!
Seed of life and chakras
this was a completely impromptu tattoo, and the watercolor was drawn on. We were both pleasantly surprised by the outcome.